Greetings VoyagerNetz Community!
We are excited to announce the release of VoyagerNetz Engage Version .4. We are thrilled about the strides this version has taken. As we release new versions and new functionality to VoyagerNetz Engage, there will be an announcement blog (like this one) to share the news with you. You are also always welcome to view the Technical Release Notes that are in PDF form at the bottom of this page.
Big News
New Desktop + Mobile App! We have launched the first version of our Engage Application, that provides a smoother and more functional experience as well as allow for a mobile version for on the go team members. If you had our original website version, we will be transitioning you to the new app version soon!
Standard Response Extensions! Within the Standard Response Section, you will see a new element, called Tag. This will attach the standard response to a hashtag. For example, if you were to build a Standard Response that articulates the a special offer you have on a product, you could write the text as the description message and tag it with specialoffer. Then if someone messages in #specialoffer, they will automatically receive the standard response.
New Functionality
Conversations are now Organized by 3 sections Waiting, Assigned, and Completed

In Waiting you can see all of the conversations that are currently unassigned and preview them, to see the conversation before committing. Once you accept it, it gets added to….
Assigned! Assigned includes all of My Conversations - the conversations that you own, the Participating Conversation - the conversations you are a participant on, and Incoming Transfers, which are conversations another teammate has asked you to take over.

These three sections are indicated in the new App, and there are Badges which are Count indicators to let you know at a glance how many conversations need to be attended to.
Once you are in your conversations you will see 4 white buttons

The first is the Internal Chat, which allows you to chat with other participating users.
The next is Notes, which can be used to capture notes about the conversation and can be done by any participant.
The third is where the Conversation Info (Reference) lives, and where the contact details are, and you can log notes about the customer, change names, emails, add a reference, etc. These Contact Details will stay attached to the profile, so even after you have closed the conversation, if they converse again all that information returns with them.
The fourth button is complete, and that closes the conversation and allow you to select an outcome.

Once you have clicked into the dialogue field you will see two additional black buttons.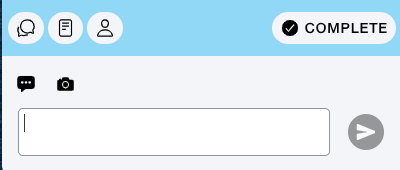 The first accesses the Standard Messages
The second, access your Pictures/Camera - Because Rich Media (Pictures, PDFs, etc) can now be sent by MMS! (As supported by specific channels)

To add a view or add new participants, select the button in the top left corner in the conversation
That's all for today and Version .4!
Remember you can always message us if you have any questions.

Your VoyagerNetz Team