Hello VoyagerNetz Community!
In this last couple weeks we have released Version .7 and .8 and now we are ready to update all of our clients with the new features!
Big News
Dashboards! Now Engage Admins have a new icon in their Engage Instance called "Dashboards" - Explore these easy ways to see the overall patterns of your Engage!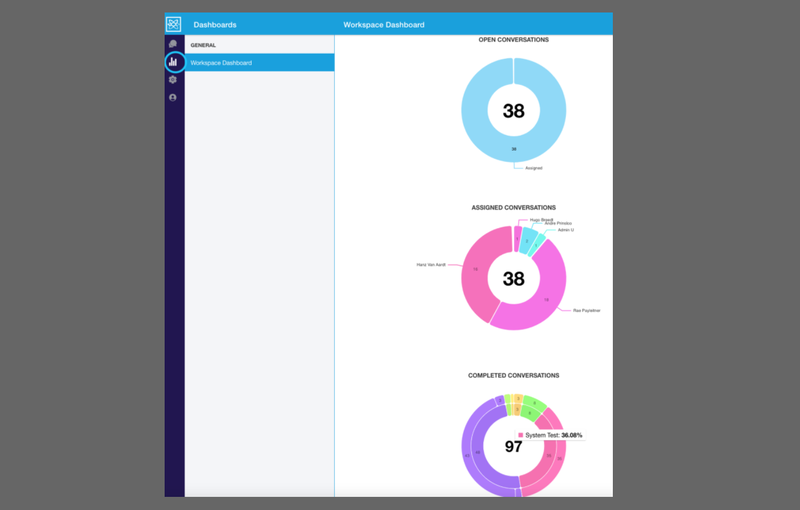 Supervisor View! We added a new role for users in Engage called "Supervisor". The Supervisor has the capacity to see all of the conversations open on the team. This user level is below the Admin, but above the User. The functionality of the Supervisor View is also included in the Admin role.
Functionality:
Conversation Filter! An important element of the Supervisor Role is being able to see all of the conversations on the team, this of course increases the amount of conversations by a great deal. We added a filter to the messages, which allows you to filter your conversations by category. They are also labeled by color for ease of viewing:
Mine (Blue): Conversations you own
Participating (Light Blue): Conversations that you have been added as a participant to
Other (Grey): All other Conversations
*Standard Users also have a filter system, but they only have access to "Mine" and "Participating"
Supervisor Control! A supervisor user can add themselves as a participant to any conversation by using the new button in the bottom right of the conversation window, and request a transfer of any conversation to any user, including themselves!


New Functionality
Text is no longer required on conversations and notes when only an image is sent. In the case where text is a channel requirement (e.g. Text/MMS) Engage will automatically add the text "See attached" if the user does not specify any text.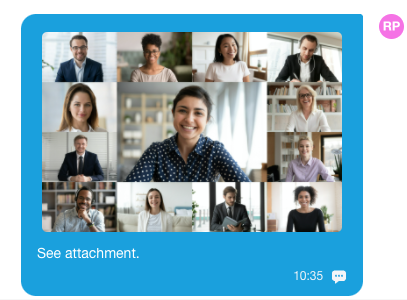 Push notification support is available for Chrome (Web and Android), Firefox, Opera, Edge, and the iOS application.
Changes to Participants Section - Access by clicking the initial icon in the top right

The Transfer icon has been changed to a simple opposite arrows image.
A Transfer request can now be cancelled by the user that requested the transfer, by clicking the "X" on the pending transfer
Admins + Supervisors can now remove people from conversations (including themselves!) by clicking the shadowed minus participant icon.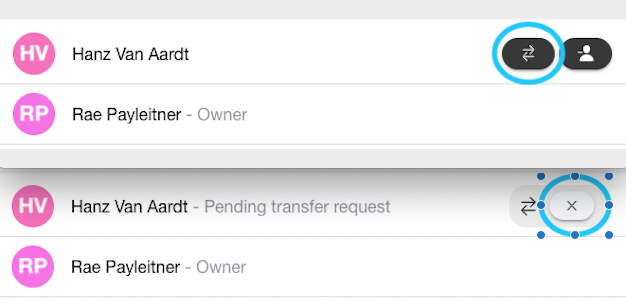 Outcomes and Standard Responses can now be deleted. Historic use of the deleted outcome will not be affected.

The Conversation Management settings page was reworked to be more intuitive. If you are an Admin, give it a read and let us know if you have any questions!
Now beneath the send button on a conversation, Engage will now indicate to which page (in the case of Facebook-related communication or web-chat) or from which number (in the cases of text and WhatsApp communication) the message will be sent! This of course partners to the page that the message initially came from.



Facebook: The process of linking a Facebook page to Engage has been simplified:

A Facebook page administrator can now request to link the page to a specific Engage Instance, within the settings in Engage if they are an Admin within Engage. An automated process will perform the required setup tasks making the linking instantaneous! Text us if you would like help with linking your facebook page.
Multiple Facebook pages can now be linked to an instance of Engage
The user requesting the link does not need to be registered as a test user anymore - just an Admin on both Engage, and the linking Facebook Page.
When available, during a Facebook Messenger (or Web Chat) conversation, Engage will retrieve the contact's name and avatar from Facebook.
A separate web chat channel was added for FB Messenger messages that originated from Facebook's Chat plugin added to a client's own website, that icon is now different from the facebook icon, using the www icon.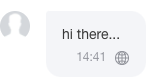 Feedback Responses
This is where we tell you the fixes we made in response to your feedback and concerns. Remember: we love your feedback, do not hesitate to let us know what you think and how we can improve!
There was a problem that the save button was not available when editing the tag on outcomes and standard responses - Fixed!
Some of you had an issue where inactive completed conversations were still shown in the Assigned section - Fixed!
When opening a standard response, the text sometimes did not display correctly - Fixed!
Coming Soon...
In the next phase of development we are really focusing on the digital stability of Engage, we have been moving so quickly we want to make sure we take a little time behind the scenes, and shore up our system. But the features that you will be able to actually see very soon will be the Android App, Faster Speeds, and maybe some new channels... stay tuned.

That's wraps up our update on Version.8!
Let us know if there is anything you need.

Your VoyagerNetz Team