Hello VoyagerNetz Community!
We are excited to announce the release of VoyagerNetz Engage Version .5! We are thrilled about the strides this version has taken. As always you can read and see about the new functionality below and review the Technical Release Notes that are in PDF form at the bottom of this page if you desire. Let's jump in!
Big News
More Notifications! We have added integral notifications to our Engage Desktop Notifications to help you stay current on your conversations. You can see the breakdown of these notifications below Please let us know if you have any other ideas about new notifications, we would love to hear your practical perspective!
New Conversation Management! We have updated the Conversation Management section to reflect new options for automated messages. You still have your normal Greeting Message which is sent to all new conversations, but now you have a Slow Message Response, which is sent when an assigned message has taken too long to be responded to by the owner or there is no one available to reply, and Slow Conversation Engagement message, which is for when a new message that is still in Waiting, is not accepted in the specified time. Both messages are optional, customizable, and the times are specified for your needs.



New Functionality
You can now send images (MMS options) through the text channel, along side a caption.
The Facebook Messenger Channel has been updated and enabled, and business page Facebook Messenger communication can be managed through Engage.
Within the individual profile under Contact Details (click on the name) there is now a Notes section and an Email section, where you can house information which will be attached to the individual, not the conversation. This means that even after you complete a conversation, and potentially start a new one with them, the information will stay in this section. This a great place to store information about their account, long term data, or just tips on how to deal with the customer in general, for your team to see.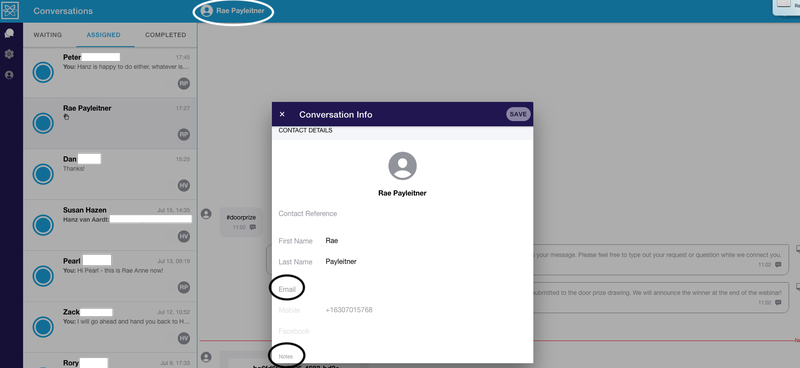 Within the preview sections of messages, you will now see the last non-system message. Which means it will skip the view of your automatic greeter and jump right to the important customer data!
Images are supported in the Conversation Notes, which can be accessed by clicking on the paper icon within the conversation.


Any Sending errors will now be displayed on your messages so you can see what went wrong.
A user can now edit their name by clicking on the profile section, and then the small pencil next to the name.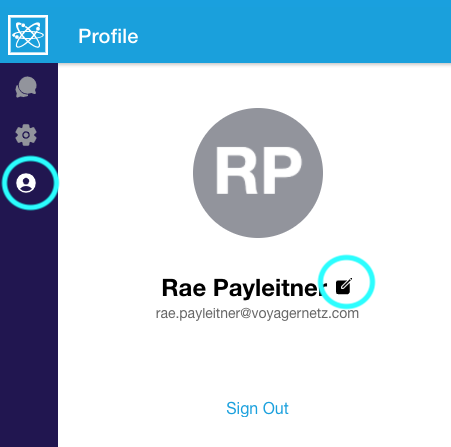 Conversation data is available for integration purposes within Engage Analytics, contact us to start a conversation on integrations and we will be happy to help!
Notifications Updated!

Notification are now supported in the system (iOS, Chrome, Firefox, Edge) 1.
NEW Notification: A new conversation in waiting
NEW Notification: On an internal chat message (to all participants)
NEW Notification: When a user is added as a participant to a conversation
NEW Notification: When a transfer of a conversation to a user is requested
NEW Notification: On all inbound conversation messages (to all participants)
NEW Notification: When a new note is added to a conversation (to all participants)
NEW Notification: Upon failure to send a message (to the owner)
Coming Soon...
In Version .6 we are expecting to release our iPhone Mobile App for Engage, which will allow you to be fully Engaged while on the go. We are excited to share it with you all!

That's all for today and Version .5!
Remember you can always message us if you have any questions.

Your VoyagerNetz Team